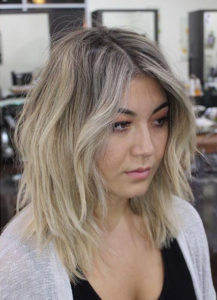 It's that time of year… hair in salons are being chopped into the trendy long bob faster than the seasons are changing. If your hair has some damage from summer styling, this cut is perfect to restore healthy, thick locks. Here at The Hair Lounge, one of our stylist Dimitri Papakalos is famous for this signature haircut. To accompany the look, his clients transformations wouldn't be complete without the Unite Texturiza Spray to add bouncy volume and texture.
Image Source: @dimitripapakalos on Instagram
The technique of color melting has been one of the hottest trends going around salons right now. It could be described as the love child between a balayage and ombre. Color melting is the blending of two or more shades through seamless gradation. Ashley Tisdale's stylist, Chad Kenyon, describes the process, "I can simply do a color melt, which melts the root into the top part of the balayag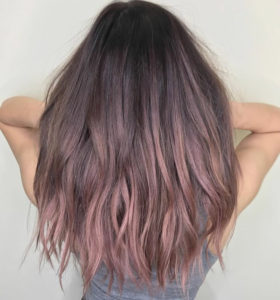 e–The deeper root also is a nice, soft, alluring look for fall-winter." Since there are limitless color combinations that can be achieved with this method, it allows you to show-off whatever your personal style is. The style is the perfect transition into a new chic, fashionable fall style.
Image Source: @dimitripapakolas on Instagram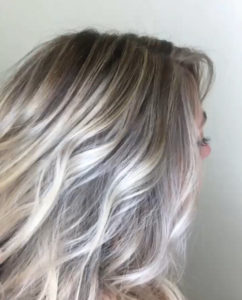 Who says you have to go dark for fall? Platinum blonde with cool blue undertones is the perfect winter look! This color has been insanely popular among celebrities, such as Kim Kardashian, Lady Gaga, and Cara Delevingne, who have been sporting the ice princess style. However, you don't have to be on the red carpet to recreate this look, channel your inner Elsa and go to your local colorist for a frosted winter hairdo.
Image Source: @hairbylisaortiz on Instagram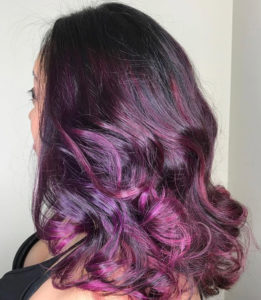 Bored with your summer pastel hair? Add some smokey dimensions to make your color pop! Balayage isn't just for blondes, take on a fresh modern take by transforming your rainbow hair into fall. Brands like Jocio Color Intensity have taken the mermaid hair trend to a whole new level of striking, colorful shades. Express yourself this season with some eye-catching semi-permanent hairdos! At The Hair Lounge, Heather Jean is our go-to fantasy color expert! Her bold, fairy-tale looks will 100% guarantee you with #hairgoals.
Image Source: @beautybyheatherjean on Instagram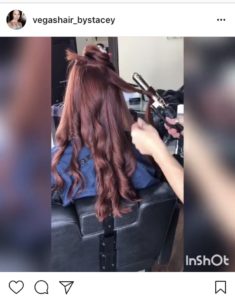 From rust to ruby– fall is the perfect time to go red. Celebrity stylist, Guy Tang, has had the color flooded all over his Instagram page from fiery, vibrant rose to warm, copper red and we are totally obsessed! Local Vegas hairstylist, Stacey Clouse, is just as in love with the color and posted a pic of one of her beautiful redhead clients with the caption, "when you give your clients the hair they should have been born with…"